There's nothing like the tasty creaminess of ice cream for a hot, sunny day. The frozen treat has the power to put a smile on everyone's faces, which means health-conscious people like everyone following the ketogenic diet should enjoy it too. For keto, carbs and sugars are forbidden, but this shouldn't stop us from enjoying the food we like once in a while.
That's why low-carb and keto-friendly ice cream is here. There are more quality-minded keto ice cream brands than ever. Without further ado, here are the 9 keto ice creams you'll love.
Halo Top
Halo Top is a pioneer in the low-carb, high-protein ice cream category. Now with 25 unique flavors, including key lime pie and gingerbread house, the brand is a keto favorite. There are only 5-10 grams of carbs in a pint, and they now make frozen pops too!
Check it out here
Enlightened
Made with real cream and several zero-calorie sweeteners, this ice cream is an actual enlightening experience. There's just 1 gram of carbs in each serving. Some of the most popular flavors are chocolate peanut butter, chunky mint chocolate, and red velvet. They're selling ice cream bars now as well, and we're all very excited.
Learn more here
Edy's Slow Churned No Sugar Added
Slow churned ice cream is all about the texture, and Edy's is making the best out of the traditional technique. The brand makes regular ice cream, but it also has six no sugar added ice creams, including butter pecan, triple chocolate, and an addictive vanilla bean.
Get yours here
So Delicious No Sugar Added (Low-Carb)
So Delicious is not only a keto alternative with no sugar added ice creams, but it's also a dairy-free ice cream perfect for people who can't handle lactose. The company makes ice creams based on almond milk, cashew milk, and coconut milk, making it a delight for vegan and keto dieters alike.
Learn more about it here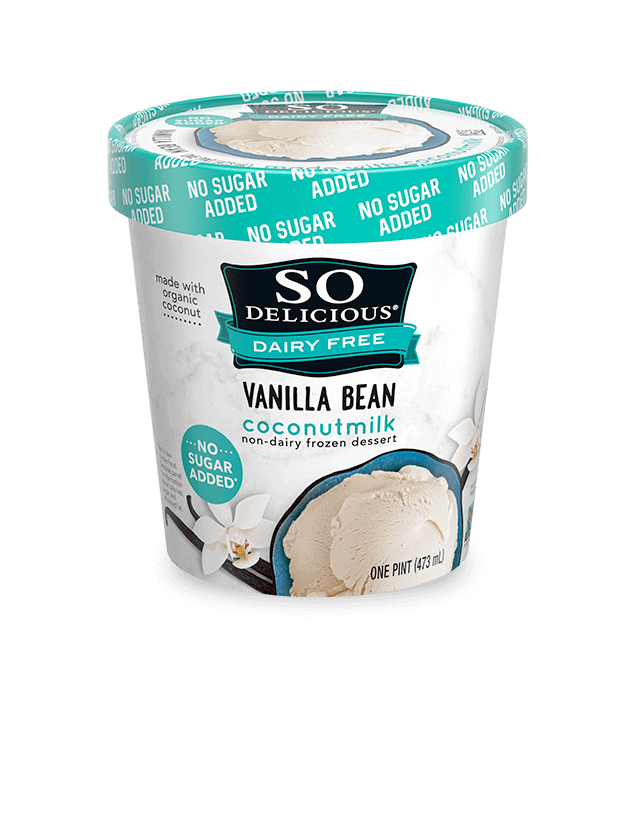 Rebel Creamery
This is a revolutionary brand, they're the bad boys of the keto ice cream industry. Rebel makes low glycemic index ice creams using heavy cream and all sorts of zero-carb sweeteners. Cookie dough flavor, chocolate chip, and salted caramel are some of the company's best-selling pints.
More information here
O' My Gelato (Low-Carb)
This one might be one of the most conscious-minded gelato brands in the market — non-GMO ingredients, vegan, non-gluten, organic, dairy-free, and no artificial sweeteners. For keto, you want to look at the lower sugar collection with only 2 grams of sugar per serving, totally keto compatible. Two flavors are available 'I love chocolate' and 'Cake walk'.
Check it out here
Arctic Zero
Arctic Zero is a frozen treat based in faba beans, so it has no dairy. The creaminess is nevertheless unbeatable! Coconut, soy, and nut milk are used throughout the brand's collection, and they're sweetened with ultra-low-carb monk fruit extract.
See more here
Keto Pint Ice Cream
For keto ice creams and ice cream bars, Keto Pint checks all the right boxes: keto certified, gluten-free, soy-free, no added sugar, and bst-free milk. Chocolate, salt caramel, peanut butter cup, or any other flavor in their impressively healthy catalog will guarantee an enjoyable time.
Here's more info about it
Breyer's Carbsmart
This is a smart option for everyone looking for a keto-friendly, gluten-free, lactose-free, and non-GMO. Breyer's is really serious about its ice cream. Only 5 grams of carbs in each serving, that's what you need right there. Try their chocolate ice cream!
Find out more here
What's your favorite ice cream flavor?
Did you know vanilla is the most popular ice cream flavor in the world? It's closely followed by chocolate and butter pecan, who knew? We'd love to know what your favorite ice cream flavors are. Let's make the Health Creative community grow!