Indian desserts are incredibly varied, and many of them have hundreds of years behind them. Regional specialties, western influence, and the most amazing ingredients combine for some pretty tasty desserts.
On the downside, traditional Indian treats are sweetened with non-keto-friendly sugars. Think of this as a challenge rather than an obstacle. People worldwide are crafting pretty mean keto Indian desserts, and these are our favorite ones.
Keto Indian Desserts
Keto Rasmalai
Rasmalai is a sweet custard-like sweet sauce. It actually can be translated as cream juice, and it's quite tasty. We're making this one with whole milk, almond milk, stevia, saffron, and powdered cardamom. Try it, rasmalai is one of the most famous Indian sweet desserts!
Check it out here
Keto Halwa
There are many types of halva in India, the compact sweet confections can be flour-based, but nut butter-based alternatives are also available and friendlier with the keto lifestyle. This recipe calls for almonds, pistachio, ghee, and gourd, and it rocks! Stevia adds the sweet notes for a very traditional treat.
Check it out here.
Keto Almond Phirni Kheer
Known as kheer or phirni, this dessert is classically made with rice, but here we're using almonds for a keto version. Don't forget to add the cardamom and the saffron strands. They might not look like much, but they give the dessert its personality.
Read it here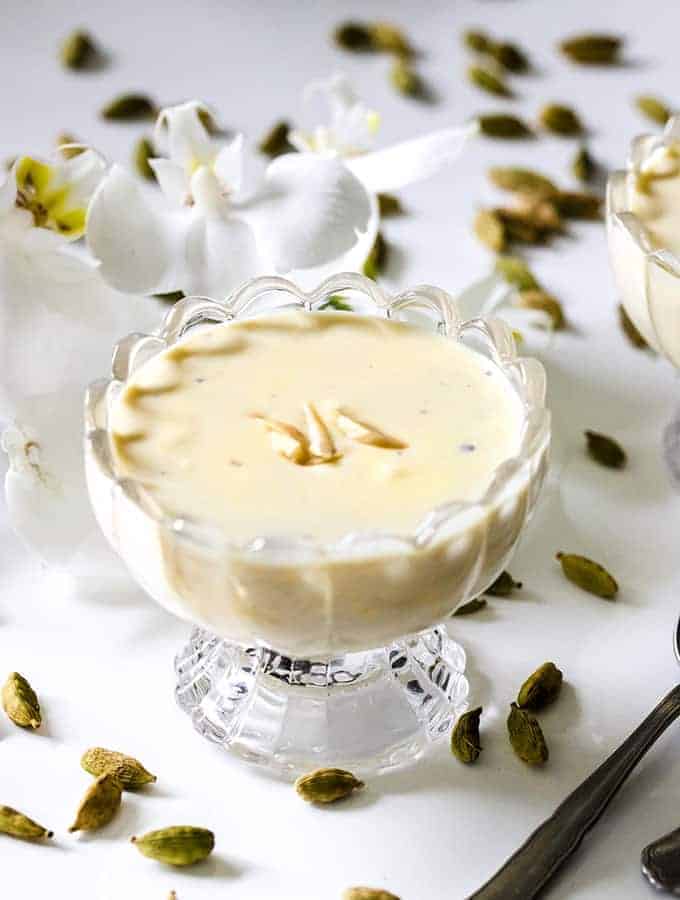 Indian Keto Coconut Bars
Imagine some soft and sweet coconut bars infused with your favorite Indian flavors. Well, that's what these bars are all about. With few ingredients, including ghee, coconut milk, and shredded coconut, these bars are quite easy to make and utterly satisfying.
Make this here.
Instant Keto Katli
These diamond-shaped cashew katli are sugar-free, yet sugary. The texture comes from blanched almond flour, and splenda brings sweetness to the table. This is the easiest dessert on the list, and with just a kiss of saffron, this katli might just be the tastiest you've tried.
Try it out here.
Ketogenic Til Laddo
Coconut milk and a sesame seed paste give this golden til laddoo their soft, crusty texture. The original treats need flour to hold everything together, but these ones are entirely carb-free and have added softness for the whipping cream and the buttery ghee.
Learn to make it here.
Keto Ricotta Burfi
At the most basic level, authentic burfi or barfi is condensed milk, sweetened, and solidified. The recipe here makes good use of ricotta for an entirely distinct mouthfeel. Heavy whipping cream, a carb-free sweetener, and the ever-present cardamom and saffron flavors make these compact cakes a delight.
See it here.
Keto Shrikhand
Yogurt is a big deal in India; it's part of sweet and savory dishes. Here, it's the most crucial ingredient. Shrikhand is a creamy, custardy spread, cooked the keto way with fat curd, coconut milk, and erythritol sweetener. Don't forget the cardamom and saffron!
Check it out here.
Healthy mysore pak
The sweetest, fattiest dessert in India might easily be the mysore pak. This keto recipe is based on chickpeas, ghee, and very little sugar, easily substitutable with any keto sweetener. The rectangular treats are a flavor bomb!
Try them here.
The Keto Diet Has No Limits
Is there anything we can't do or eat? The keto diet keeps us healthy and in shape, but it also allows us to eat well and enjoy tasty food. Indian desserts are just the beginning; we're taking over the world!