Ground beef is a fantastic source of protein; it's convenient, affordable, and quite tasty if you know what you're doing. There's a reason meatloaves, meatballs, cheeseburgers, chili, and Bolognese pasta sauce are some of the most famous dishes on the planet.
The thing is, cooking meat the old way can take a toll on the flavor and texture of your favorite meals, but the Crock-pot or slow cooker is here to help, especially for keto-friendly meals.
Slow-cooked meals are the new thing, and you know what? That's exciting; food is tastier, more nutritious, and has a better texture. Here are the best ground meat Crock-pot recipes ever.
1. The Easiest Crock-Pot Keto Chili
For a chilly evening, there's nothing like a heartwarming, spicy bowl of chili. The Tex-Mex specialty is all about tomato sauce, ground meat, and spices, and when cooked in a Crock-pot, it multiplies all those flavors!
In 8 to 10 hours of low and slow cooking and less than ten ingredients, you can make a whole batch of chili, and it's fantastic.
Link to the full recipe here
2. Slow Cooker Spaghetti Sauce
When you're in a hurry but need to put together a wholesome meal, everyone's go-to dish is spaghetti Bolognese. Picture a springy keto squash spaghetti bathed in a hearty and chunky tomato sauce, and when you make your Bolognese sauce in your Crock-pot, it gets all thick and flavorful.
It takes about 7 hours to cook, but you can make several batches ahead of time and freeze them. You'll never go back to bottled sauce again; this ground meat pasta sauce is a game-changer.
See the full recipe here.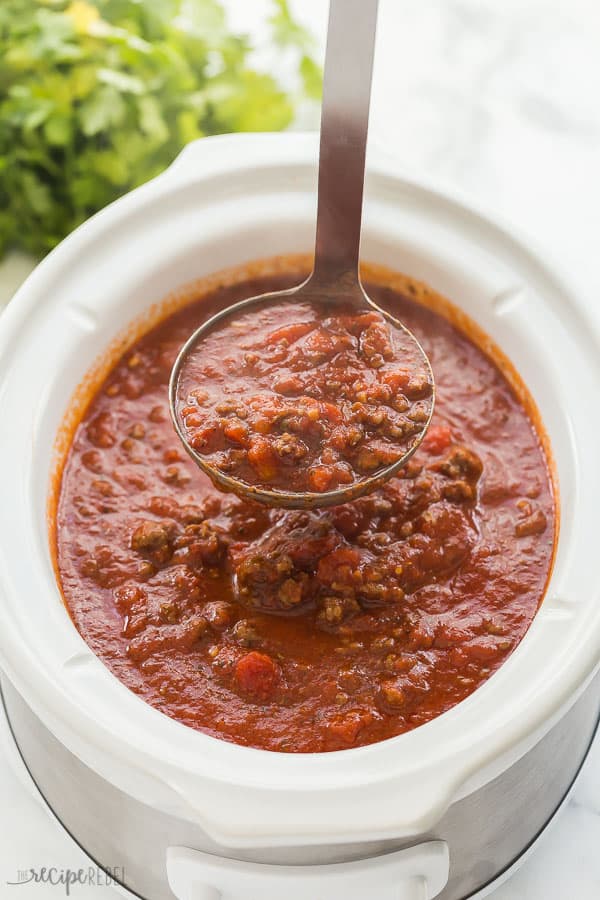 3. Melt-in-Your-Mouth Crock-Pot Meat Loaf
This meatloaf is so fork-tender, you can cut it like butter, and the sweet and savory flavor is to die for. No more burned or dried-out meatloaves. This slow cooker delicacy really takes the comforting dish to the future.
Eggs, milk, ketchup, a dash of mustard, crunchy onions, and a dash of Worcestershire sauce is all you need, and of course, a good pound of premium ground beef. For a keto version, ditch the brown sugar and substitute the breadcrumbs with gritty almond meal.
Click here for the recipe
4. Crock-pot Meatballs
The ultimate ground beef dish is definitely meatballs, people make some sort of meatball everywhere on earth, and it's easy to see why; what's better than the juicy, soft, and meaty two-biters?
This Crock-pot recipe renders the tastiest meatballs in tomato sauce; it's so versatile you can even substitute ground beef with turkey meat. For a keto meal, replace the breadcrumbs with almond meal and serve these bad boys with mashed broccoli and enjoy!
Check it out here
5. Crock-Pot Cheeseburger Bake
Now, the grand finale, what good is a cooking appliance if you can't invoke the all-American flavors of a cheeseburger? Well, a slow cooker is perfect for making a cheesy cheeseburger casserole.
The best part? I'm sure you already have all the ingredients and home, some everyday ingredients, ground beef, and cheddar cheese become a fabulous cheeseburger-flavored casserole. If you ask me, it's as good or better than a regular burger.
See the recipe here.
Feeling Meaty Already?
With the comfort and intensity of flavor of a slow cooker or crock-pot and high-quality ground meat, making dinner is easier than ever. It's almost like magic! And the tender texture, oh, the texture! Nothing can beat that.
Make good use of your slow cooker and cook healthier, wholesome meals for your family. These are staple recipes for weeknight dinners and special occasions, so we're sure you'll have plenty of opportunities to taste them. Try our tastiest ground beef Crock-Pot meals and let us know which ones you like the most!